The inaugural meeting of the new board members was held on July 18, 2023, at the Vice-Chancellor's Boardroom.
Vice-Chancellor of the Islamic University of Kenya, Dr. Ali Sunkar, spoke at the meeting and praised the decision to put its programs on ODeL, saying that incorporating technology into teaching and learning will help make university programs available to students all over the world. According to Dr. Sunkar, the University is prepared to reach new heights with the Board Members it has chosen since they have the necessary skills, networks, talent, and resources.
He gave the new Board Members reassurance that they would have the backing of the university administration in their efforts to enhance academic programs through technological innovation. He vowed to quickly integrate the ODeL teaching strategies into all programs.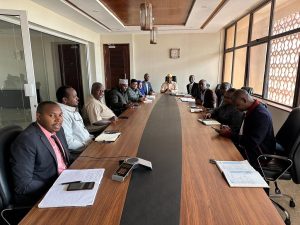 Dr. James Choge, the campus director for ODeL, provided an overview of the University's goals and objectives in assisting in the creation of technologically advanced, dynamic educational content. He stated that the Board members will be extremely helpful in attaining ODeL's strategic functions, which include but are not limited to Coordinating the offered programs, Syllabi, and Rules, providing guidance on appropriate conduct and program supervision, monitoring the entrance of students to the program, oversee the administration and processing of ODeL program assessments, and make sure that there is strict adherence to general educational standards and implementation.
Dr. Choge also stated that the best way to raise educational standards is to embrace technological breakthroughs like the Internet of Things, the Internet of Everything, etc. in teaching and learning. "Digitalization of teaching and learning is the future of education," he declared.
Here is the list of the eleven (11) ODeL Board members and their positions:
Dr. Fauziya Brek Karama – Ag. Chairperson
Dr. Hussein Halake           – Vice Chairperson
Dr. James Choge                – Secretary of the ODeL Board
Mr. Lattif Noor Kaka         – Member
Dr. Wesley Okoth               – Member
Dr. Osman Chesula            – Member
Dr. James Muganda           – Member
Mr. Jackson Kimani           – Member
Mr. Mohammed Azhar Pasha – Member
Mr. Ibrahim Gollo               – Member
Ms. Barbra Otwoma            – Member